Fall seems to be the time when our focus shifts from the outdoor adventures of summer to cozy indoor time, which I find often revolves around meal-making and sharing. Many rainy days when I'm at home with the girls we end up doing some sort of cooking project, so I've found myself checking out various kid-friendly cookbooks over the last few years. In addition, I've been trying to be better about making out a weekly menu before I go to the grocery store each week, which makes it so much easier to make dinner each night. I've been having fun trying to come up with new things each week, browsing through our cookbooks. I have several favorites that I want to share. These are especially good cookbooks for families, whether you're trying to cook a meal for the whole family or looking for a snack to make with your preschooler.
Feeding the Whole Family
by Cynthia Lair
My friend Emily gave us this as a baby gift- what a great idea! I LOVE this cookbook- it is chock-full of delicious, super-healthy recipes, and each recipe includes a blurb at the bottom of the page telling you how to serve or modify the recipe for your baby. There's lots of info on introducing food to babies, ideas for packing lunches and ways to include your kids in meal preparations. So far we've tried the following recipes and they've all been fabulous:
-Sweet Apple Walnut Kale-- a great fall recipe
-Curried Lentils and Cauliflower
-Bok Choy and Buckwheat Noodles in Seasoned Broth (Yakisoba)
-Santa Fe Black Bean Salad
-Creamy Orange Vanilla Pops
I also just noticed a recipe for Halloween Cookies with Yummy Yam frosting (naturally golden-orange colored for pumpkin-shaped cookies), which I want to try because if I can get Rowan to devour frosting made of yams, well, that would just be plain awesome...which brings me to my next favorite cookbook at the moment:
Deceptively Delicious
by Jessica Seinfeld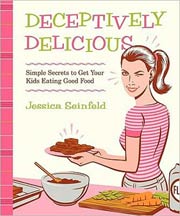 I'm all for teaching your kids the value of veggies and nutritious eating from the start. Part of me doesn't like the idea of having to be stealthy and trick kids into eating what's good for them...BUT, I have a longstanding nightly battle with a picky-eater. Some nights I feel like a law degree might have been helpful to groom me for the level of negotiating that goes on regarding how many more bites of broccoli need to happen before someone is allowed to be excused. When Rowan was a baby and first eating food, she would eat every fruit and vegetable we gave her and we bragged to everyone how she was so open-minded when it came to food, "she even likes
spicy
things!" Then her tastes abruptly changed and we entered the White Period, where she only liked foods that were white and starchy and included some form of cheese. This is where I think vegetable trickery is genius...during those picky phases when you worry that the only vegetable-y thing your child is ingesting is ketchup. Jessica Seinfeld uses all kinds of vegetable and fruit purees hidden in kid's favorite recipes. If you have a picky eater, buy this.
Kinder Krunchies: Healthy Snack Recipes for Children
by Karen S. Jenkins
This is my favorite recipe book from my childhood. I don't know where my mom got this cookbook, but I loved how it had these simple black and white illustrations for the recipes, making it easy for kids to follow. I remember making hard-boiled egg sailboats and monster face toast and all kinds of other fun yet healthy recipes from this cookbook.
Fairy Tale Feasts: A Literary Cookbook for Young Readers and Eaters
by Jane Yolen and Heidi E. Y. Stemple
I haven't actually made any of these recipes but we got this book out of the library last year and I loved the concept of it. There is a fairy tale to read aloud and then an accompanying recipe to go with the story, like Snow White's Baked Apples, or Jack's Magic Party Beans. Some of the fairy tales are retold with a twist, so don't expect all traditional tales. Mostly it's just a fun idea, and would provide a good story and cooking project for a rainy day.